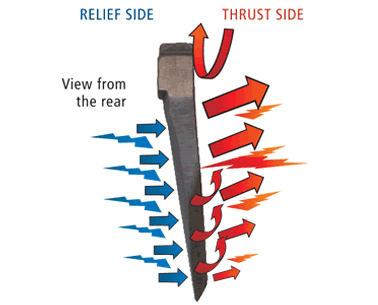 Reducing the shaft speed produces exaggerated fracture forces by extending the duration of tine contact within the soil. Even in wet soil, fracture lines are easily observed.
How It Works
SMART-TILL®'s effectiveness comes from its two phases of tine action—entry, or soil displacement, and fracture, when force is applied. The recommended operating speed is 8-10 mph.
Tine shaft speed helps produce low torque and create a "ripping" effect that breaks through subsoil to allow more rapid air and water exchange. Water moves into the subsoil instead of resting in the plow layer, and roots easily penetrate the soil.
The soil surface receives only limited surface disruption, allowing for optimum performance from any field. Plus, SMART-TILL® offers the versatility to adjust the tine angle to suit the application and raise the harrows independent of the rest of the implement.